Bristol Myers Squibb Biologics Expansion Tanks Handled By Airo Logistics Inc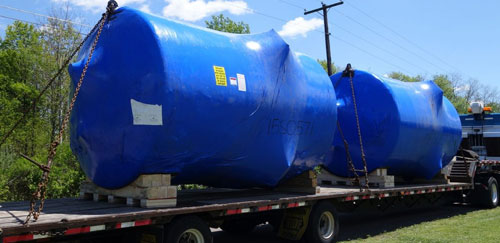 AIRO Logistics, Inc. (AIRO) successfully coordinated a project destined for the biologics manufacturing capacity expansion at Bristol-Myers Squibb (BMS), Cruiserath, Dublin, Ireland. The construction of the facility is currently still in progress and it is expected to be completed in 2019. This expansion will allow BMS to innovate and strengthen biologics, immuno-oncology and cancer treatment drug development.
The scope of AIRO's involvement included the planning and transportation stainless steel tanks. With shipments having high cargo values, each individual transport move needed special care and attention. Requirements varied depending on the weights, dimensions and weather. Some shipments required tarps, some required Conestoga trailers, while others were shrink-wrapped by the shipper. Many of the shipments required permits and escorts for over-dimensional widths and heights.
AIRO Logistics, Inc. specializes in transportation and logistics of high value, ultra-sensitive processing equipment for the pharma, biopharma, food/beverage, dairy, brewery/winery, cosmetic, nutraceutical, medical and chemical industries.