Turnkey Modular Systems Receives Integral Equipment Delivered By Airo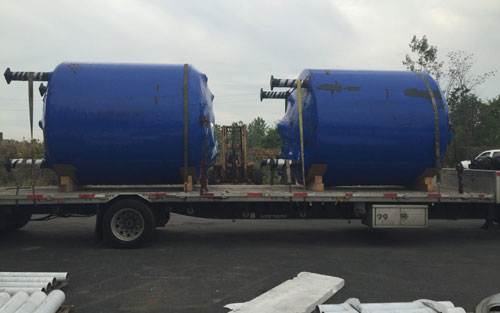 AIRO Logistics, Inc, recently delivered 6 vessels that will be implemented into a full skid system to Turnkey Modular Systems in Mississauga, Ontario. Timing was a key factor during this project and all border crossing and rigging logistics were coordinated by AIRO Logistics, Inc.
"The tanks will be combined into a large custom process system to be used in the Biotech industry. The vessels are the last large pieces of equipment to be integrated into the process, and the delivery was critical to our overall schedule. The delivery was on time without delay," said Turnkey's President, Michael Hallman. Hallman continued, "I especially appreciate that during the process we received real time updates regarding ETA and border crossing status from the Airo Logistics team. I would like to thank you for your team's great quality service and level of professionalism during this shipment. We look forward to working with you in the future."
Brandon Glenn, lead project coordinator at AIRO added, "The challenges on this project added an increased need for attention. With the freight requiring permits for width, the travel hours were restricted, but we knew Turnkey needed these vessels as quickly as possible. In the end, we arrived safely and ahead of schedule – before the rigging crew was scheduled to arrive.
Project: Processing Vessels for Biotech skid for Turnkey Modular Systems in Mississauga, ON.
Requirements: Trailer type required was a stepdeck with permits for width.
AIRO Logistics, Inc. specializes in transportation and logistics of high value, ultra-sensitive processing equipment for the pharma, biopharma, food/beverage, dairy, brewery/winery, cosmetic, nutraceutical, medical and chemical industries.