3 Common Communication Pitfalls Made by Process and Packaging Equipment Manufacturers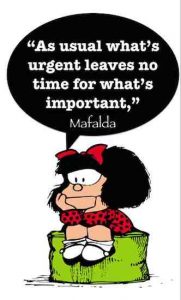 As she so eloquently stated in her comic strip, Mafalda said, "As usual what's urgent leaves no room for what's important." This quote is very funny but equally true—sometimes not so funny if it has affected you negatively! With shipping highly-sensitive projects in the pharma, bio-pharma and food/beverage industries, communication during the transportation process can make or break a project. At AIRO Logistics, Inc., each customer works ONLY with one point of contact. This helps specifically with three areas of project logistics.
Initial setup: AIRO's competitive advantage comes from using one point of contact for each customer. In other words, when a shipper calls AIRO, they always speak to the same project logistics coordinator. This means, the customer is never speaking to a stranger who is unfamiliar with their unique shipping requirements. This project coordinator knows all the specific requirements of those shippers' projects that can make or break a deal. For example, some shippers require all projects to ship on Conestoga trailers, while other shippers require extra padding between their freight and the drivers' straps. While some shippers prefer to shrink wrap their EP-SS tanks and secure them to the trailer/saddle by employing lifting lugs others don't shrink wrap but prefer to crate their products instead.
Feedback: Going back to the first point, AIRO uses one project coordinator per customer, cutting many potential communication failures. While speaking with customers and prospective clients, they often tell us that they are forced to deal with a different contact person each time they call the broker or carrier. Our customers cannot afford to follow that inefficient system. How can that person accurately provide feedback as a consultant without first understanding their unique, intricate shipping requirements? AIRO's project coordinators are able to intimately understand each customer's requirements. By knowing the specific cargo type, AIRO is able to serve as a consultant and make recommendations that will ultimately lead to a successful final presentation to the end user.
Delivery: One of the most important and overlooked aspects of every project is the delivery—the final presentation of the shipper's product to the end user! Shippers have a competitive edge when they are using a carrier that clearly communicates with the receiver or rigging crew unloading the freight. AIRO proactively communicates schedules, requirements and collects specific delivery requests, all while communicating with the driver and keeping everyone informed. A slip-up in the final delivery can leave a bad taste in the mouth of the end-user, making them think twice about using the same shipper when ordering more equipment.
Communication is key and unfortunately, some people think that good communication has occurred with very little thought. In order for quality communication to occur, details must be hashed through and possible scenarios gone over. AIRO minimizes the opportunities for errors/omissions and maximizes the impact of the final presentation of shippers' products to the end users. When you're fed up with dealing with multiple points of contact with your current carriers, consider AIRO's model. Hopefully there isn't a project-crippling miscommunication in the meantime.