5 Ways to Eliminate Damaged Tanks, Kettles and Vessels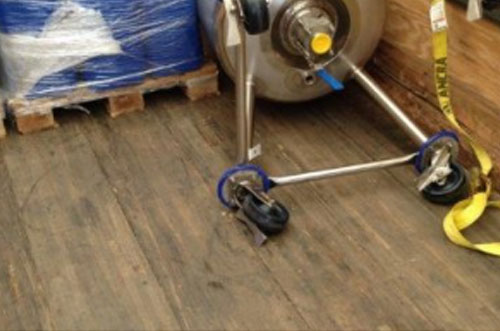 I sincerely hope you never have to deal with a scenario like the one pictured above. The truth is, we receive photographs like this from frustrated prospective clients on a regular basis. Just imagine yourself in your customer's shoes at the receiving end. You've waited months for the electro-polished stainless steel tank vendor to manufacture the product, you signed off on the FAT and the punch-list of changes have been made. Now, you're ready to receive the processing equipment and initiate production on a drug that is in high demand and frighteningly low supply. The truck arrives, and after opening the trailer doors, you see the long-awaited tank lying on the floor of the trailer as if it has rolled around, bumping into every other piece of freight in the trailer for the last 600 miles.
This is not a pretty scenario! Damaged process equipment can create longer delays, cost more money and cause unnecessary stress on the relationship between you and your customer. When using traditional LTL services, processing equipment is much more susceptible to damage during transit. The drivers, forklift operators and other common carrier LTL employees are not specifically trained to handle such precious cargo as your electro-polished, stainless steel vessels. Luckily, there are 5 ways to prevent damage and delay in your projects bound for the pharma, biopharma, biotech, food/beverage, dairy, brewery/winery/distillery, nutraceutical, cosmetic, chemical and medical industries.
Hire experienced drivers – For almost two decades we have placed strict focus on the importance of hiring drivers who are experienced with transporting high value processing equipment. This allows the drivers to understand where to use straps, padding, chains and cloth protectors, and other freight securement techniques. The drivers also understand how to recognize potential problem areas during transit, proactively allowing us to best avoid the scenario mentioned above.
Proper equipment pairing – Using only one carrier handcuffs you by committing ONLY the equipment sitting in THEIR yard. After all, that carrier has payments to make on those trailers and they will urge you to keep the wheels spinning. AIRO has experience pairing the equipment or trailer type that best fits the customer's unique scenario. AIRO is focuses on transporting processing equipment; therefore, they will ensure that all freight is paired with the best equipment for the customer's specific needs, not the carrier's needs. This commonly means utilizing specialized equipment that is in low supply and requires high up front capital to put on the highways.
Utilize AIRO's Rolling Consolidation – Employing the traditional LTL model, the common carrier will pick up the freight, take it back to a nearby terminal, unload the trailer, then reload your freight into a linehaul trailer. This could happen anywhere from 1-6+ times depending on how far your freight needs to travel. Some LTL carriers will even release your freight to an entirely different carrier part way through transit! AIRO's no-touch-no-transfer service, called Rolling Consolidation, allows only for similar freight to be added to the trailer. Your cargo is never moved on or off the trailer and is not touched until it reaches the final destination. This system, coupled with a minimum number of orders in each truck, not only eliminates cargo damage but it also leads to quicker transit times.
Choose the quicker transit time – The faster the freight arrives to the end user, the less time the freight will be sitting on a trailer or a trucking terminal. Faster transit times also equate to happier customers and less production down time. Often times when we're shipping process equipment used in the biopharma, food/beverage, dairy or brewery industries, it's because the end user is in a down-time for new equipment. When you can under-promise and over-deliver with transit times, the end user can assimilate your vessels into production much quicker, creating happy customers!
Pay now, not later – Saving a few bucks when booking a shipment may seem sexy and make your superiors grin, but there are intangible costs to lost, damaged or delayed freight; some of which have been mentioned above. Damaged freight equals freight claims. Freight claims are costly to the manufacturer in many ways and they cause undue stress on the relationships with customers and create unnecessary delays through more downtime for production.
If there is one round in a seven-shot revolver, common sense suggests that you have an 86% chance of things turning out ok. However, there is that 1 out of 7 times when things will go terribly wrong. Shipping your freight should not be like playing Russian roulette. As the shipper, you have the ability to eliminate freight damage and ensure a quality final presentation to the end user.
Jason R. Snavely is the President of AIRO Logistics, Inc., an innovative industry leader in transportation & logistics of high value, ultra-sensitive process equipment for the pharma, biopharma, food/beverage, dairy, nutraceutical, medical, chemical, brewery, winery, distillery and cosmetic industries. Jason and his technical staff are sought after globally for their expertise in logistics and transportation. To learn more about AIRO or to contact Jason, visit www.airologistics.com or email jason@airologistics.com